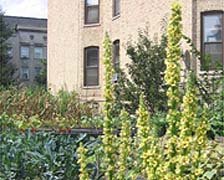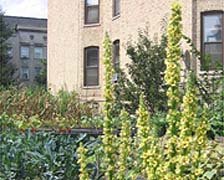 This month I've been in two exceptional garden-performance settings, both of which have blown me away .
Yesterday, at Ginko Community Garden, located a couple neighborhoods south of me, an experimental theater troupe called Walkabout Theater, in co-sponsorship with NeighborSpace, performed a piece called War Garden. The piece is about the origins of the community gardening in Chicago. According to the story, World War I support-the-war-at-home through food production had people gardening – and fighting slum-like development in the city (especially the George Streeter character, – in community garden initiatives, all run by women. We're talking very strong women going gardening, and pies – for victory – way before victory gardens and all that WWII hulabaloo started happening. The performance featured a really hilarious script, some acting that did good stuff with tableau and with song, and a cabbage cannon. Yes, a cabbage cannon. It is being performed every week at a different community garden in neighborhoods all across the city. And you can make a seed bomb and drink lemonade and meet the neighbors and gardeners before and after each show! The rain didn't slow down the performers – or the audience – one bit. I hope to follow the show to some other gardens on future Sunday evenings, it was such good fun.
The other, more personal experience, was in mid-June, hosted by my aunt Ruthie. She invited us to share in an "offering" of a theatrical production of readings from Mary Oliver (see especially the poem Singapore, which may remind many of you readers about our own airport experience there!) and readings from a book that was recently published (I will re-post with its name soon) in her back-yard garden, which has a koi pond and is quite serene and lovely. The theater works were performed by none other than my grandmother, grand-uncle, aunt, and uncle, with musical entertainment featuring my step dad on cello, songs by a cousin (a few generations removed) and my brother on keyboard. Aunt Ruthie and her family had just gotten back from a trip to China, and the party was a way of beginning to share some of that experience, and to bring family and friends together again after a long winter. The sun was hot, but the performance was stellar, the food delicious, and the garden really flourishing. Not your average garden party… but hey, that's how we roll in my clan.