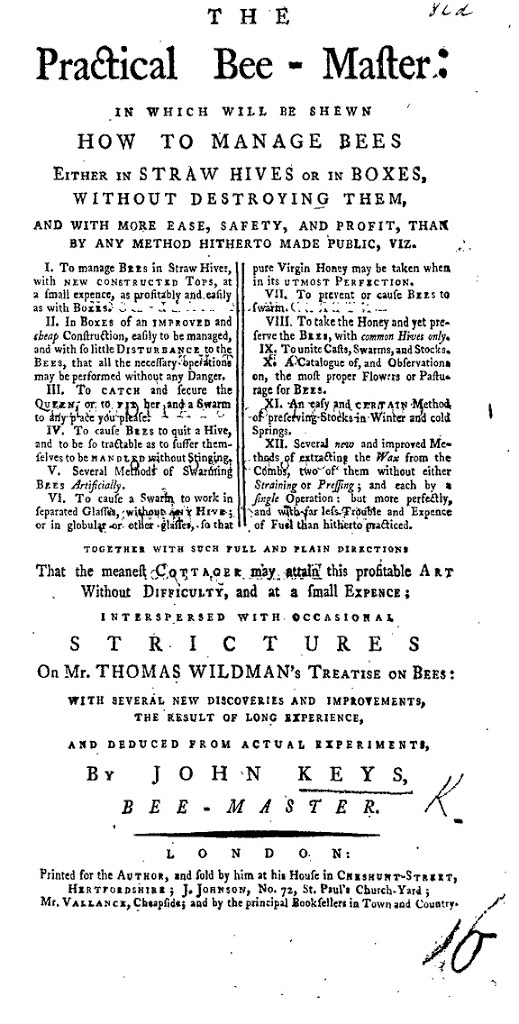 Today I'll offer you a nice distraction from all the Washington DC immanent news about debt defaults.
PBS ran
a nice story this week about Colony Collapse Disorder and how it remains a mystery
. Still, they note, beekeepers have been effectively not let the crisis become one that decimates agriculture, as had been feared. Mysterious microbes, viruses, and parasites remain a focus for researchers, and there is much that remains to be learned. Meanwhile I found in the American University library some wonderful, absolute gems of writing from the 1780s about bees and beekeeping. Beemaster John Keys' 400-page long treatise on beekeeping in 1781, among the other treasures that can be found in the collection. There is a whole host of other neat archival stuff available in the digital collection.
Also in the more obscure but interesting realm: AU library has a movie called "Bee Lady of Waldorf," which is about how Bee Venom Therapy (BVT) may be used in treating Muliple Sclerosis. (The call number is VHS 7277, for readers of this blog from the AU community.) It looks quite interesting, as it tells the story of someone local named Pat Wagner, who lives in Waldorf, MD, and is an outspoken proponent of the miracle cure of apitherapy. Apitherapy has also been used in Traditional Chinese Medicine for quite some time – follow that link and you'll get engrossed in a whole host of information on bee products and their relation to cures for cancer, and more.